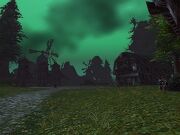 Agamand Mills, formerly a prosperous farmstead run by the Agamand family, is now the major outpost of the Scourge in Tirisfal Glades.
When the Scourge attacked Lordaeron, the Agamands decided to hold fast to their home, and ordered their farmhands to remain on the property to defend it. This effort proved to be in vain; the Agamands and their farmhands were massacred by the Scourge, and most of them arisen in their service; however, a select few have broken away, and become Forsaken instead.
Mobs
Quests
 [10] 

Speak with Sevren

 [13] 

The Family Crypt
Trivia
Other named figures used to be inhabitants of the Mills:
Captain Dargol

- An agent of the Scourge who guards the Agamand Family Crypt.

Coleman Farthing

- A former farmhand for the Agamands, Coleman is bitter toward them all and wishes revenge for forcing him and the other employees to stand guard on the property only to be slaughtered and resurrected as undead minions.

Yvette Farthing

- The sister of Coleman Farthing who now resides in the Gallows' End Tavern in Brill with her brother. She shared a secret romance with Thurman Agamand, who is now lost to the Scourge.