The Blasted Lands were twisted by the magic that brought the Dark Portal into being. The land hosts few inhabitants and no significant settlements. Magic that leaked through the Dark Portal warped the Blasted Lands, leaving an infertile landscape.
There is but one usable road in the Blasted Lands, guarded at the north by Nethergarde Keep. They have the unenviable task of watching the Dark Portal, guarding the rest of the continent from demons in the south and protecting themselves from the ogre tribes that roam the desert.
Geography
Maps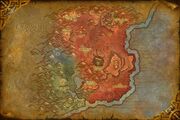 Travel Hubs
Adjacent regions
| Zone Name | Faction | Level Range | Direction | Access |
| --- | --- | --- | --- | --- |
| Swamp of Sorrows | | 35-45 | North | By foot only |
+25 Stat Potions
These quests you can get from two elves standing just inside the border of the Blasted Lands.
Each item rewards a +25 stat bonus to Intellect, Stamina, Strength, Agility, or Spirit.
Each potion is unique so you can only carry one of each kind at a time.
The quests are repeatable but you'll only get experience for the first initial quest. The first quest grants an immediate 60 min buff in addition to the potion; the subsequent quests only give a potion. So make sure you plan it out, it can be quite useful.
Stat
Item
Initial Quest
Repeatable Quest
Reagents
+25 Intellect
Cerebral Cortex Compound

Quest:The Basilisk's Bite




Quest:Infallible Mind

10 Basilisk Brain
2 Vulture Gizzard
+25 Stamina
Lung Juice Cocktail

Quest:A Boar's Vitality




Quest:Spirit of the Boar

3 Blasted Boar Lung
2 Scorpok Pincer
1 Basilisk Brain
+25 Strength
R.O.I.D.S.

Quest:Snickerfang Jowls




Quest:Rage of Ages

3 Snickerfang Jowl
2 Blasted Boar Lung
1 Scorpok Pincer
+25 Agility
Ground Scorpok Assay

Quest:Salt of the Scorpok




Quest:The Decisive Striker

3 Scorpok Pincer
2 Vulture Gizzard
1 Blasted Boar Lung
+25 Spirit
Gizzard Gum

Quest:Vulture's Vigor




Quest:Spiritual Domination

10 Vulture Gizzard
2 Snickerfang Jowl