Jurassic World: Dominion Dominates Fandom Wikis - The Loop
Play Sound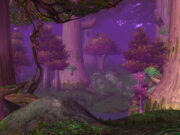 Teldrassil is an island and great tree off Kalimdor's northern coast. It is the new home of the reclusive night elves and a stunning testament to the power of their magic and connection with nature.
It was here that the Circle of the Ancients and the wise druids pooled their power to create another World Tree, but on a smaller scale. They called this tree Teldrassil ("crown of the earth") and built their city of Darnassus in its branches. The island takes the name of the "tree" as well, and a twilit forest now covers it.
Teldrassil is truly massive, a huge trunk rising out of the sea and holding the entire night elf homeland, and the capital of Darnassus, in its boughs. The enterprise was not blessed by all of the Aspects, unlike its predecessor. Regardless, the behemoth of a tree dwarfs Nordrassil, large enough that a decent amount of land has emerged atop its gargantuan limbs. Trees, flora, and fauna are now verdantly spreading across the magical tree.
Environment
The majority of Teldrassil's upper reaches is open forest and it resembles a mid-sized forested island. Darnassus takes up a large chunk on the western side of this island, while the smaller cities of Aldrassil and Dolanaar dot the remaining forest. All forms of terrain exist here, including streams, full-sized lakes, and a few hills that might be considered mountains.
There are no ore deposits to speak of here and the night elves are not known as crafty blacksmiths or miners. However, because the tree is so full of life, herbs are numerous.
Teldrassil contains no dungeons, raids, or battlegrounds. It is the starting area for the night elves and contains a very sheltered 1-5 leveling area, Shadowglen.
Territories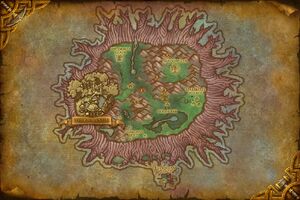 Travel
Neighboring zones
Darkshore (L10-20): Predominantly Alliance, considered a Contested zone. Located southeast of Teldrassil, it can be accessed by using swim speed and health potions or by flight master for the Alliance.
Key characters
Tenaron Stormgrip

Tallonkai Swiftroot

Denalan
Resources
Note: Though there are no pools, the waters in and around Teldrassil can be fished successfully with a minimum skill of 25.
Notes
At the tree's base there are some pieces of wooded land between its roots, one of which has an abandoned furbolg house on it, as well as Rut'theran Village.
Media
Images
Related content

For lore, or modern information about this topic, visit this article on

WoWWiki (click here).