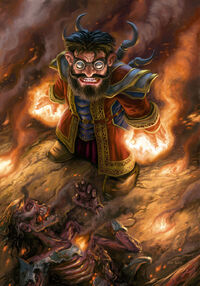 Warlocks are masters of shadow, flame, and demonic power. They are a robed class that excels at plaguing their enemies with disease or curses, hurling bolts of fire or shadow energy across the battlefield, and summoning demons to aid them in combat. While warlocks are powerful casters that deal damage from a distance, their demonic powers can also protect or support their allies in battle, or even summon other players from across the world using ritual magic to conjure portals.
Type: Debuffer
Bars: Health/Mana
Armor: Cloth
Weapons: Daggers, Wands, Swords (with training), Staves (with training)
Warlocks have both powerful damage spells (primarily dealing over time) and debuff spells that work well in conjunction with each other and with the abilities of their group mates. They have Curses for many occasions; in fact, they can easily be considered the best debuffers in the game. Their pets, too, help with the damage dealing and grant the Warlock extra abilities to put to use. They can also control crowds well with Seduction and Banish, and provide limited support in the form of their summoned stones.
| Race | Strength | Agility | Stamina | Intellect | Spirit | Armor | Health | Mana |
| --- | --- | --- | --- | --- | --- | --- | --- | --- |
| Human | 20 | 20 | 21 | 22 | 23 | 45 | 53 | 140 |
| Gnome | 15 | 23 | 20 | 26 | 22 | 51 | 43 | 200 |
| Orc | 23 | 17 | 23 | 19 | 25 | 39 | 73 | 109 |
| Undead | 19 | 18 | 22 | 20 | 27 | 41 | 63 | 110 |
Strengths
Possesses the ability to summon and control demons
Can create Healthstones for party members which heal life upon consumption
Can summon other party members using Ritual of Summoning
Can summon a demonic mount
Is able to drain opponents life, restoring own health
Weaknesses
Select spells and abilities require soulshards
Restricted to wearing cloth armor
Limited melee capability
Abilities
Affliction
| Ability | Ranks | Levels |
| --- | --- | --- |
| Corruption | 7 | 4 / 14 / 24 / 34 / 44 / 54 / 60 |
| Curse of Weakness | 6 | 4 / 12 / 22 / 32 / 42 / 52 |
| Life Tap | 6 | 6 / 16 / 26 / 36 / 46 / 56 |
| Curse of Agony | 6 | 8 / 28 / 38 / 48 / 58 |
| Fear | 3 | 8 / 32 / 56 |
| Drain Soul | 4 | 10 / 24 / 38 / 52 |
| Drain Life | 6 | 14 / 22 / 30 / 38 / 46 / 54 |
| Ability | Ranks | Levels |
| --- | --- | --- |
| Curse of Tongues | 2 | 26 / 50 |
| Curse of the Elements | 3 | 32 / 45 / 60 |
| Curse of Idiocy | NA | 38 |
| Dark Pact | 3 | 40 / 50 / 60 |
| Howl of Terror | 2 | 40 / 54 |
| Death Coil | 3 | 42 / 50 / 58 |
| Curse of Doom | NA | 60 |
Demonology
| Ability | Ranks | Levels |
| --- | --- | --- |
| Summon Imp | NA | 1 |
| Demon Skin | 2 | 1 / 10 |
| Create Healthstone (Minor) | NA | 10 |
| Summon Voidwalker | NA | 10 |
| Health Funnel | 7 | 12 / 20 / 28 / 36 / 44 / 52 / 60 |
| Unending Breath | NA | 16 |
| Create Soulstone (Minor) | NA | 18 |
| Demon Armor | 5 | 20 / 30 / 40 / 50 / 60 |
| Ritual of Summoning | NA | 20 |
| Summon Succubus | NA | 20 |
| Greater Healthstone (Lesser) | NA | 22 |
| Sense Demons | NA | 24 |
| Detect Lesser Invisibility | NA | 26 |
| Create Firestone (Lesser) | NA | 28 |
| Banish | 2 | 28 / 48 |
| Create Soulstone (Lesser) | NA | 30 |
| Enslave Demon | 3 | 30 / 44 / 58 |
| Ability | Ranks | Levels |
| --- | --- | --- |
| Summon Felhunter | NA | 30 |
| Shadow Ward | 4 | 32 / 42 / 52 / 60 |
| Create Healthstone | NA | 34 |
| Create Firestone | NA | 36 |
| Create Spellstone | NA | 36 |
| Create Soulstone | NA | 40 |
| Summon Felsteed | NA | 40 |
| Create Firestone (Greater) | NA | 46 |
| Create Healthstone (Greater) | NA | 46 |
| Create Spellstone (Greater) | NA | 48 |
| Create Soulstone (Greater) | NA | 50 |
| Inferno | NA | 50 |
| Create Firestone (Major) | NA | 56 |
| Create Healthstone (Major) | NA | 58 |
| Create Soulstone (Major) | NA | 60 |
| Create Spellstone (Major) | NA | 60 |
| Ritual of Doom | NA | 60 |
| Summon Dreadsteed | NA | 60 |
Destruction
| Ability | Ranks | Levels |
| --- | --- | --- |
| Immolate | 7 | 1 / 10 / 20 / 30 / 40 / 50 / 60 |
| Shadow Bolt | 9 | 1 / 6 / 12 / 20 / 28 / 36 / 44 / 52 / 60 |
| Searing Pain | 6 | 18 / 26 / 34 / 42 / 50 / 58 |
| Rain of Fire | 4 | 20 / 34 / 46 / 58 |
| Ability | Ranks | Levels |
| --- | --- | --- |
| Shadowburn | 6 | 20 / 24 / 32 / 40 / 48 / 56 |
| Hellfire | 3 | 30 / 42 / 54 |
| Conflagrate | NA | 40 |
| Soul Fire | 2 | 48 / 56 |
Talents
Affliction tree
Row 1:

Suppression

(5),

Improved Corruption

(5)
Row 2:

Improved Curse of Weakness

(3),

Improved Drain Soul

(2),

Improved Life Tap

(2),

Improved Drain Life

(5)
Row 3:

Improved Curse of Agony

(3),

Fel Concentration

(5),

Amplify Curse

Row 4:

Grim Reach

(2),

Nightfall

(2),

Improved Drain Mana

(2)
Row 5:

Siphon Life

,

Curse of Exhaustion

,

Improved Curse of Exhaustion

(4)
Row 6:

Shadow Mastery

(5)
Row 7:

Dark Pact
Demonology tree
Row 1:

Improved Healthstone

(2),

Improved Imp

(3),

Demonic Embrace

(5)
Row 2:

Improved Health Funnel

(2),

Improved Voidwalker

(3),

Fel Intellect

(5)
Row 3:

Improved Succubus

(3),

Fel Domination

,

Fel Stamina

(5)
Row 4:

Master Summoner

(2),

Unholy Power

(5)
Row 5:

Improved Enslave Demon

(5),

Demonic Sacrifice

,

Improved Firestone

(2)
Row 6:

Master Demonologist

(5)
Row 7:

Soul Link

,

Improved Spellstone

(2)
Destruction tree
Row 1:

Improved Shadow Bolt

(5),

Cataclysm

(5)
Row 2:

Bane

(5),

Aftermath

(5)
Row 3:

Improved Firebolt

(2),

Improved Lash of Pain

(2),

Devastation

(5),

Shadowburn

Row 4:

Intensity

(2),

Destructive Reach

(2),

Improved Searing Pain

(5)
Row 5:

Pyroclasm

(2),

Improved Immolate

(5),

Ruin

Row 6:

Emberstorm

(5)
Row 7:

Conflagrate