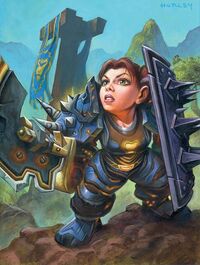 Warriors can be a raging berserker or an iron-clad juggernaut, capable of withstanding tremendous attacks while protecting their allies from harm. They have a wide variety of attacks that do everything from cripple their enemies, to dealing massive amounts of damage in a single retaliatory blow, and enhancing their allies' fighting ability with battle shouts. They excel at fighting multiple opponents at once, gaining rage from every blow dealt or received to unleash their attacks. Warriors are a versatile class with a variety of play-styles to choose from.
Races: All
Type: Primary Tank
Bars: Health/Rage
Armor: Cloth, Leather, Mail, Plate (level 40), Shields
Weapons: All (excluding wands)
The Warrior can be a defensive, shielded tank, a damage-dealing powerhouse, or a mixture of the two. Their abilities obviously pertain to the art of close combat; their stances carry with them different moves for different situations and party setups. All in all, the Warrior is one of the prime candidates to capture and hold the attention of creatures while they die to sword and spell.
| Race | Strength | Agility | Stamina | Intellect | Spirit | Armor | Health |
| --- | --- | --- | --- | --- | --- | --- | --- |
| Human | 23 | 20 | 22 | 20 | 21 | 47 | 60 |
| Dwarf | 25 | 16 | 25 | 19 | 19 | 34 | 90 |
| Night Elf | 20 | 25 | 21 | 20 | 20 | 57 | 50 |
| Gnome | 18 | 23 | 21 | 24 | 20 | 53 | 50 |
| Orc | 26 | 17 | 24 | 17 | 23 | 36 | 80 |
| Tauren | 28 | 15 | 24 | 15 | 22 | 32 | 84 |
| Troll | 24 | 22 | 23 | 16 | 21 | 51 | 70 |
| Undead | 22 | 18 | 23 | 18 | 25 | 43 | 70 |
Strengths
Able to use all armor and all weapons except wands
Very high hit points
Great close range melee skills
Good at pulling, tanking, and dealing damage, thanks to different combat stances
Ability to taunt enemies off other party members
Weaknesses
No healing ability available
Limited long range damage capability
Limited ability to buff party members
Abilities
Arms
| Ability | Ranks | Levels |
| --- | --- | --- |
| Battle Stance | NA | 1 |
| Death Wish | NA | 1 |
| Heroic Strike | 9 | 1 / 8 / 16 / 24 / 32 / 40 / 48 / 56 / 60 |
| Charge | 3 | 4 / 26 / 46 |
| Rend | 7 | 4 / 10 / 20 / 30 / 40 / 50 / 60 |
| Thunder Clap | 6 | 6 / 18 / 28 / 38 / 48 / 58 |
| Ability | Ranks | Levels |
| --- | --- | --- |
| Hamstring | NA | 8 |
| Overpower | NA | 12 |
| Mocking Blow | NA | 16 |
| Retaliation | NA | 20 |
| Mortal Strike | 4 | 40 / 48 / 54 / 60 |
Fury
| Ability | Ranks | Levels |
| --- | --- | --- |
| Battle Shout | 7 | 1 / 12 / 22 / 32 / 42 / 52 / 60 |
| Sweeping Strikes | NA | 1 |
| Demoralizing Shout | 5 | 14 / 24 / 34 / 44 / 54 |
| Cleave | 5 | 20 / 30 / 40 / 50 / 60 |
| Intimidating Shout | NA | 22 |
| Execute | 5 | 24 / 32 / 40 / 48 / 56 |
| Challenging Shout | NA | 26 |
| Berserker Stance | NA | 30 |
| Ability | Ranks | Levels |
| --- | --- | --- |
| Intercept | NA | 30 |
| Slam | 4 | 30 / 38 / 46 / 54 |
| Berserker Rage | NA | 32 |
| Whirlwind | NA | 36 |
| Pummel | NA | 38 |
| Bloodthirst | NA | 40 |
| Recklessness | NA | 50 |
Protection
| Ability | Ranks | Levels |
| --- | --- | --- |
| Devastate | NA | 1 |
| Bloodrage | NA | 10 |
| Defensive Stance | NA | 10 |
| Sunder Armor | NA | 10 |
| Taunt | NA | 10 |
| Ability | Ranks | Levels |
| --- | --- | --- |
| Shield Bash | NA | 12 |
| Revenge | 6 | 14 / 24 / 34 / 44 / 54 / 60 |
| Disarm | NA | 18 |
| Shield Wall | NA | 28 |
| Shield Slam | 4 | 40 / 48 / 54 / 60 |
Talents
Arms tree
Row 1:

Improved Heroic Strike

(3),

Deflection

(5),

Improved Rend

(3)
Row 2:

Improved Charge

(2),

Tactical Mastery

(5),

Improved Thunder Clap

(3)
Row 3:

Improved Overpower

(2),

Anger Management

,

Deep Wounds

(3)
Row 4:

Two-Handed Weapon Specialization

(5),

Impale

(2)
Row 5:

Axe Specialization

(5),

Sweeping Strikes

,

Mace Specialization

(5),

Sword Specialization

(5)
Row 6:

Polearm Specialization

(5),

Improved Hamstring

(3)
Row 7:

Mortal Strike
Fury tree
Row 1:

Booming Voice

(5),

Cruelty

(5)
Row 2:

Improved Demoralizing Shout

(5),

Unbridled Wrath

(5)
Row 3:

Improved Cleave

(3),

Piercing Howl

,

Blood Craze

(3),

Improved Battle Shout

(5)
Row 4:

Dual Wield Specialization

(5),

Improved Execute

(2),

Enrage

(5)
Row 5:

Improved Slam

(5),

Death Wish

,

Improved Intercept

(2)
Row 6:

Improved Berserker Rage

(2),

Flurry

(5)
Row 7:

Bloodthirst
Protection tree
Row 1:

Shield Specialization

(5),

Anticipation

(5)
Row 2:

Improved Bloodrage

(2),

Toughness

(5),

Iron Will

(5)
Row 3:

Last Stand

,

Improved Shield Block

(3),

Improved Revenge

(3),

Defiance

(5)
Row 4:

Improved Sunder Armor

(3),

Improved Disarm

(3),

Improved Taunt

(2)
Row 5:

Improved Shield Wall

(2),

Concussion Blow

,

Improved Shield Bash

(2)
Row 6:

One-Handed Weapon Specialization

(5)
Row 7:

Shield Slam