Jurassic World: Dominion Dominates Fandom Wikis - The Loop
Play Sound
Westfall borders the Kingdom of Stormwind, populated by humans not under the Alliance's complete control. The region was stolen right under the Alliance's nose by its own people. This land has lain fallow since after the Second War, but is now held by the Defias Brotherhood. Stormwind claims the land, but it has found little time to be concerned with it, with insufficient funds and might to retake the region. A handful of farmers try to keep their land, and some even attempt a tithe to Stormwind, but most only grow enough to feed themselves.
The People's Militia has erected a bastion of military power at Sentinel Hill from where they issue commands to anyone willing to aid the cause.
Geography
Westfall is a region of rolling pastures and farms, barren with drought and maltreatment. Fields are infested with carrion birds and rogue harvest watchers. The outlawed Defias Brotherhood possess a large mine with an entrance somewhere in the small town of Moonbrook, and they have connections with kobolds that occupy Jangolode Mine.
Territories
Dungeons
Level Range
Group Size
Approximate Run Time
The Deadmines
15-28
5-man
1-2 Hours
Travel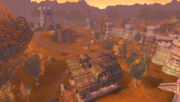 The Alliance has access to a flight path at Sentinel Hill.
Neighboring zones
Key characters
Resources
Notes
Images
Related content

For lore, or modern information about this topic, visit this article on

WoWWiki (click here).